Double shaft hammer mill
---
A professional manufacturer engaged in the research, development, production, sale and service of log debarker, wood chipper, wood crusher, hammer mill and wood pellet mill.
Double shaft hammer mill
good price and quality Double shaft hammer mill
Double shaft hammer mill products
Hongxin Machinery
---
Double shaft hammer mill Characteristics
1) Double shaft hammer mill shell adopts welded-steel plate construction, the main machine is embedded for seal, completely avoids dust spillover and maintains a clean work environment.
2) The motor supply power to the machine by drum coupling directly. The rotor is built – in type, crushing more efficiently with uniform output size.
3) Forged hammers are symmetric homogeneous permutation, small vibration without blind angle, large crushing friction area. Wearing resisting material behind sieving has big wrapping angle. The hammers are enhanced for better wear-resistance and longer service span.
4) After balance testing, rotor can work reversely.
5) 2 separate arc side door ensures easy observation and replacement of the screen, hammer and rotor, without disturbing wind and flying dust.
6) The draught fan's efficiency is maximized by faster pneumatic conveying and minimum wind resistance.
7) The output sawdust is conveyed by screw conveyor with high efficiency and low maintenance cost.
Application
1) Scope: small logs, branches, roots, waste rubber, PVC foam board, straw and weed, coconut shell, palm shell, wood chips etc.
2) Purpose: biomass fuel factory, biomass power plant, animal feed, chemical plant.
Output products is like the following photo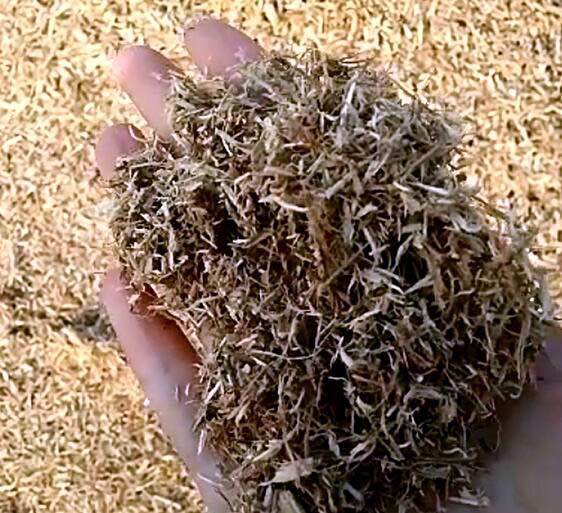 Specification
| | | | | |
| --- | --- | --- | --- | --- |
| Type | HX2600L | HX2600S | HX2800L | HX2800S |
| Rotor quantity | Dual | Dual | Dual | Dual |
| Rotor diameter (mm) | 1160 | 1160 | 1260 | 1260 |
| Rotor rotational speed (rpm) | 1485 | 1485 | 1485 | 1485 |
| Hammer qty (piece) | 96 | 140 | 168 | 216 |
| Main power (kw) | 90 x 2 | 132*2, 110X2 | 160*2 | 200*2 |
| Capacity (t∕h) | 5-8 | 7-10 | 10-15 | 12-18 |
| Input size (mm) | 1320x780 | 1320x780 | 1470x780 | 1470x780 |
| Main machine weight (T) | 7.5 | 9 | 11 | 12.5 |
| Dimension (m) | 3.1x2.5x2.8 | 3.1x2.5x2.8 | 3.4x2.8x3 | 3.4x3x3 |