Disc chipper
---
A professional manufacturer engaged in the research, development, production, sale and service of log debarker, wood chipper, wood crusher, hammer mill and wood pellet mill.
---
Features of Disc chipper
1) Reasonable structure,
2) Wide usage, High output
3) Qualified chips, Safe and reliable
4) Easy operation, Easy maintenance
Application of Disc chipper
Chip wood logs, wood cutting residues into wood chips for preparing raw material for density board plant and paper-making.
Output wood chips is like the below photo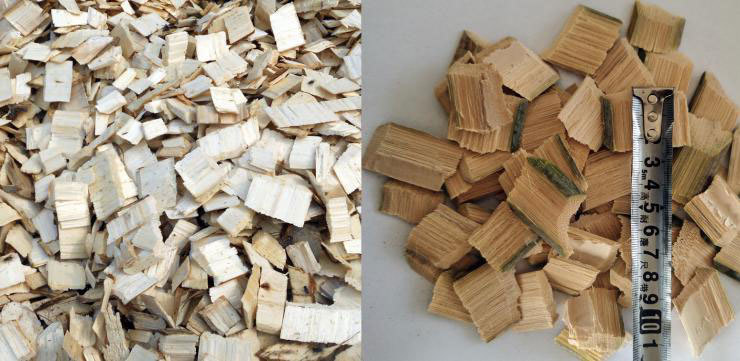 Specification
Model

HX1710

HX1212

HX1300

HX1216

HX1800

Disc rotor diameter (mm)

1150

1300

1300

1600

1800

Blade quantity (piece)

6

6

6

6

6 or 4

Input size (mm)

270x270

320x320

350x350

420x420

500x500

Rotor rotation speed (rpm)

635

635

650

620

420

Chip size (mm)

20-35

20-35

20-35

20-35

20-35
80-100

Production capacity (TPH)

5-8

10-12

12-15

15-25

20-40

Main motor power (kw)

55

90

90

160

160

Feed + discharge motor (kw)

3+3

3+3

3+3

3+3

5.5+5.5

Feed conveyor length(m)

4

4

4

6

6

Discharge conveyor length(mm)

10

10

10

10

10

Weight (t)

2.18

2.9

4.25

5.58

6.5
Disc chippers are powerful machines used in the forestry industry to prepare, process, and manage wood materials. These machines are designed to convert unwanted wood waste into valuable wood chips, which can then be sold to manufacturers or used as fuel in biomass plants. However, as with any heavy machinery, there are certain precautions that must be taken to ensure safe and efficient operation.
Next, it is crucial to properly maintain and inspect the machine before each use. This includes checking for any loose bolts or fasteners, ensuring the blades are sharpened and adjusted properly, and checking fluid levels, such as hydraulic oil and fuel. Regular maintenance and inspections can help prevent accidents and ensure the machine operates at peak efficiency.
Another important consideration is the location and setup of the chipper. The machine should always be placed on a flat, stable surface, and the area around the machine should be clear of any obstacles or debris. Additionally, the chipper should be positioned in a way that allows for easy access to the feed chute and discharge chute. It is also recommended to position the machine in a way that minimizes the risk of debris being thrown towards the operator.
When feeding material into the chipper, it is essential to follow proper procedures to avoid accidents. Only one person should be responsible for feeding material into the machine, and that person should stand to the side of the feed chute, not in front of it. The material being fed into the machine should be properly sized and free of any foreign objects, such as nails or rocks. It is also important to maintain a safe distance from the machine while it is in operation.
Finally, it is recommended to regularly evaluate the performance of the machine to ensure it is working efficiently. This includes monitoring the size and consistency of the wood chips produced, as well as the overall output of the machine. If any issues are identified, such as dull blades or decreased performance, it is important to address them promptly to prevent further problems.
In conclusion, disc chippers are powerful machines that are essential to the forestry industry. However, it is important to follow proper safety precautions and maintenance procedures to ensure safe and efficient operation. By wearing appropriate PPE, properly maintaining and inspecting the machine, positioning it correctly, following feeding procedures, and regularly evaluating performance, operators can minimize the risk of accidents and maximize productivity.